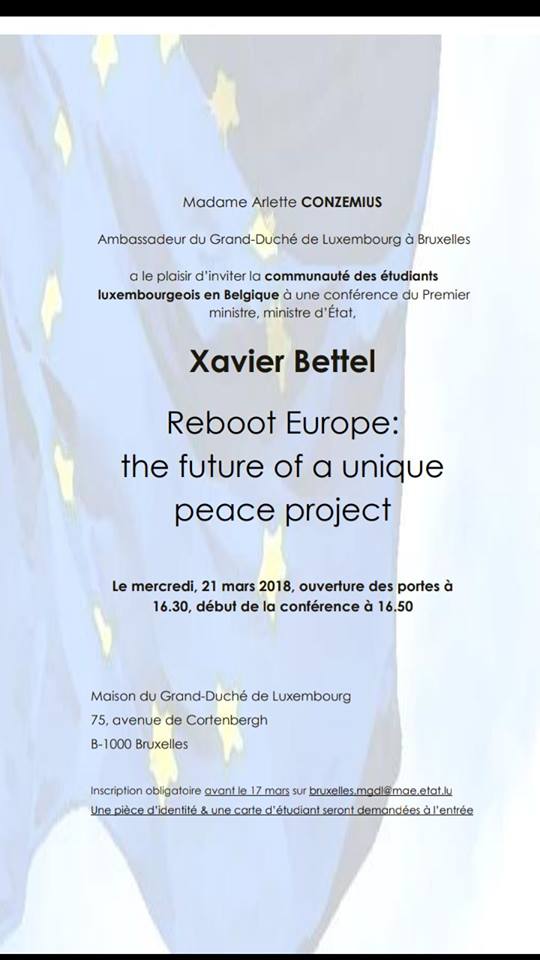 Coucou chers Celbistes,
Cette année vous n'avez pas seulement la possibilité de visiter le Parlement européen mais vous avez aussi l'occasion de visiter l'Ambassade du Luxembourg ici à Bruxelles.
Celle-ci nous invite de participer à une conférence avec le Premier ministre Monsieur Xavier Bettel. La conférence porte le titre: Reboot Europe: the future of a unique peace project.
Si vous êtes intéressés de participer, voici le lien d'inscription:
https://goo.gl/forms/irfswWYWuMTvSDli1
Date limite pour l'inscription c'est le mercredi 14 mars à 23h59.
Le CELB se chargera alors de l'inscription. Passé cette date vous pouvez toujours vous inscrire individuellement avant le 17 mars à l'adresse bruxelles.mgdl@mae.etat.lu
C'est l'occasion unique de voir l'Ambassade du Luxembourg et nous sommes heureux qu'ils nous y invitent.
Tenue de ville exigée!!